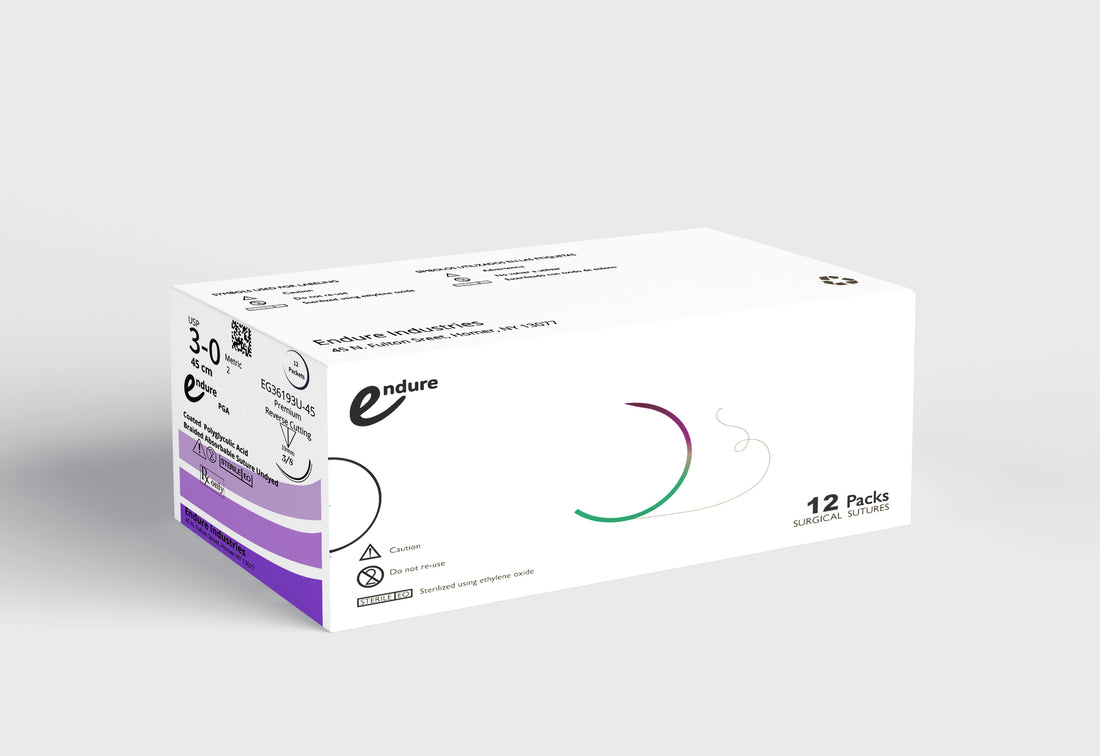 Scroll down for more detailed product description and price comparison of similar products.
This product is equivalent to: Ethicon Vicryl® sutures, Covidien Polysorb™ suture, Novosyn® suture by B Braun & Safil® suture by Henry Schein®
USP
NEEDLE TYPES AND LENGTH
SUTURE LENGTH
COLOR
CATALOG#
PRICE / BOX
BUY
3-0
3/8 Premium Reverse Cutting  |  19 mm
45 cm (18")
Undyed
EG36193U-45
$ 20.90
Add To Cart
3-0
3/8 Premium Reverse Cutting  |  19 mm
75 cm (30")
Undyed
EG36193U-75
$ 20.9

0

Add To Cart
Description:
Endure Absorbable Polyglycolic Acid Suture is a sterile, braided, synthetic, absorbable surgical suture made entirely of Polyglycolic Acid. Each suture has a Polycaprolactone and Calcium Stearate Coating with a braided multifilament structure.
They are intended for use in soft tissue approximation and/or ligation in general. They are also commonly utilized in ophthalmology and other surgical procedures.
WeSuture is the brand name of sutures by Endure Industries. Our PGA Sutures meet the requirements of the United States Pharmacopoeia (USP) monograph requirements for absorbable surgical suture.
Structure
:
Multifilament, braided
Chemical Composition
:
100% Polyglycolic acid
Coating
:
Polycaprolactone and calcium stearate
Thread Color
:
Violet or Undyed
Sizes
:
EP gauge 0.2-6 (USP sizes 10-0 through 3 or 4)
Knot Tensile Strength Retention
:
14 days post-implantation 75%
21 days post-implantation 40%
Mass Absorption
:
Degradation by hydrolysis within 60 - 90 days
Indication
:
General soft tissue approximation and/or ligation, including use in ophthalmic surgery
Sterilization
:
Ethylene oxide
Free Shipping on All Orders!
Free Samples - Not sure if our sutures are a good fit for your clinical use? You can always order a set of free samples to see if they are right for you. Just select the link below for the form and fill out your preferences.
Order Free Sample Now!